Last month I had reported that Ask.com had added a direct link to its privacy policy via a "Privacy" link conveniently placed on its homepage. It was observed that even Google didn't have the 'Privacy Link' and that this move might compel the search giant to do the same to their homepage too. Well, now according to Official Google Blog, Google has finally introduced the 'Privacy' link in their home page.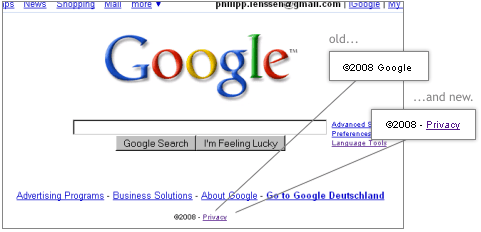 According to Marissa Mayer at the Google Blog , "Larry and Sergey told me we could only add this to the homepage if we took a word away – keeping the "weight" of the homepage unchanged at 28. Given that the new Privacy link fit best with legal disclaimers on the page, I looked to the copyright line. There, we dropped the word "Google" (realizing it was implied, obviously) and added the new privacy link alongside it."
With privacy advocates and organization breathing down on Google's neck, with this move, Google has finally found some room to breathe. The display of privacy link would surely ease the concerns of these organizations.
Did you enjoy this article?
Get FREE Updates
Get SEO, Social media and digital marketing updates straight to your inbox.