Google AdWords recently announced the addition of its AdSense style display ads to Google Finance. The display ads will be powered by Google Display Ad Builder. These ads would use new finance templates complete with charts and "Invest Now" calls to action.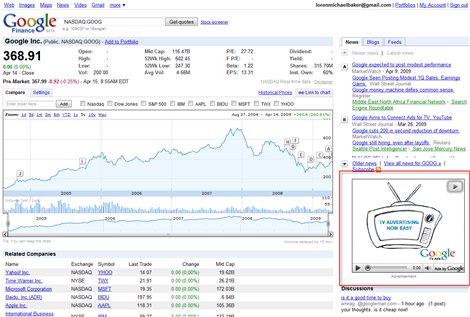 "Google Finance is a great opportunity to reach a relevant audience while they engage with financial content. You can use the AdWords placement targeting tool to target Google Finance like any other site on the content network, with the exception of third party ads."
However, to restrict misleading ads out of Google Finance, Google will be restricting ads to a controlled display environment. Since, Google Finance has become a stock and investment research area for most investors, they would not want to serve misleading tips to its users.
The call to action and relevant targeting by Google Display Ads is believed to bring in more revenue for Google.
Did you enjoy this article?
Get FREE Updates
Get SEO, Social media and digital marketing updates straight to your inbox.