Some time back changes to Google's AdSense refferal program had announced, pertaining to the pricing structure for North America, Latin America, or Japan and Google Plans To Retire Its AdSense Referral Program? outside North America, Latin America, and Japan.
The news came as a nasty surprise for the publishers affected by the changes and most were unhappy with it. One of the most vocal critics has been Darren Rowse of ProBlogger.net who termed the changes as sheer stupidity! On similar lines Jeremy Schoemaker along with many others protested the changes.
It seems that the resentment across the board had the folks at Google rethinking about the whole thing and they decided make amends. An update has been released at the Google AdSense Blog in this regard.
The following modifications have now been made:
First, the changes to referrals promoting AdSense will now depend on where your users are located, irrespective of your location as a publisher. "You'll earn $100 for every user you refer to AdSense who is located in North America, Latin America or Japan when they generate $100 in AdSense revenue within 180 days and they remove all payment holds." Further, no payments would be made for users you refer who are located elsewhere. These changes would take effect during the last week of January.
Second, the option to add a referral unit for AdSense would surface again in your account, whenever you target a referral unit to Japan and/or any countries in North America and Latin America. To ensure the payments for valid conversions, Google recommends "that you check the targeting settings on your current AdSense referral units."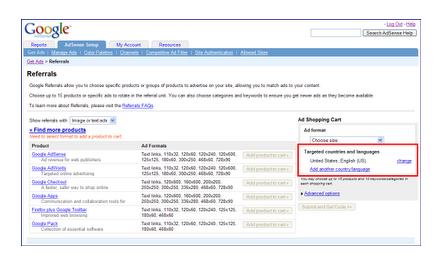 Picture Credits: Google Inc
Third, for those who are worried about not being able to see the recent AdSense referral earnings in your account there's no reason to worry as it is due to a display error and there's an assurance that the issue would be sorted out quickly.
AdSense publishers got a respite recently when an issue with AdSense report sorting malfunction was fixed after a month's long time, see: Google Finally Fixes AdSense Reporting Sorting Malfunction, After A Month Though!.