Google groups is now showing PageRank too, and it seems that it's ranking with the best of SEO forums in organic search, observes Seo Buzz. Is it "algorithmic reputation management" at its best?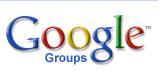 Google Groups are user-owned groups created using the Google Groups service. And they allow users to manage and archive their mailing lists, and just like other groups provide a means for communication and collaboration with group members.
Interestingly, a member asked a question in one of the discussions, is Google a global monopoly? A good question for sure, how about searching Google to find the answers! Yes but Microsoft has indeed referred to Google like that.
Sometime last year in Google groups, Susan Moskwa asked users how and what they did to keep a check on posts amongst other questions, and she got some very interesting answers as well, see: Google Groups Asks Know How To Monitor Your Posts, Interesting Answers Included Too!.