Last week, Google announced its partnership and pilot with the Cleveland Clinic. But now Google for the first time has publicly discussed about its much talked about Google Health.
A deeper insight into Google health was offered by Eric Schmidt at the HIMSS conference in Orlando, Florida. He discussed about the overall health strategy of Google. Jumping right into the main concern that most people have raised, this is what he said about the privacy and security policy as stated on the Google Health Blog:
"Privacy and Security – Due to the sensitive and personal nature of the data that will be stored in Google Health, we need to conduct our health service with the same privacy, security, and integrity users have come to expect in all our services. Google Health will protect the privacy of your health information by giving you complete control over your data. We won't sell or share your data without your explicit permission. Our privacy policy and practices have been developed in thoughtful collaboration with experts from the Google Health Advisory Council."
Since the time Google has come up with its health plans, the privacy concerns have been running rampant. It only got propelled further with CNN mentioning that Google Health isn't "covered by the Health Insurance Portability and Accountability Act" (HIPAA) and that it may make "it easier for the government or some other legal adversary to obtain the information."
Further trying to buy-in people to sign up, the blog lists other advantages of Google Health as:
Platform

One of the most exciting and innovative parts of Google Health is our platform strategy. We're assembling a directory of third-party services that interoperate with Google Health. Right now, this means you'll be able to automatically import information such as your doctors' records, your prescription history, and your test results into Google Health in order to easily access and control your data. Later, this platform strategy will mean that you will be able to interact with services and tools easily, and will be able to do things like schedule appointments, refill prescriptions, and start using new wellness tools.

Portability

Our Internet presence ultimately means that through Google Health, you will be able to have access and control over your health data from anywhere. Through the Cleveland Clinic pilot, we have already found great use-cases in which, for example, people spend 6 months of the year in Ohio, and 6 months of the year in Florida or Arizona, and will now be able to move their health data between their various health providers seamlessly and with total control. Previously, this would have required carrying paper records back and forth. With Google Health, the user can simply import the data from each medical facility and then choose to share it with the other facilities. It's advances in data portability like this that we think can really make a difference in the quality of healthcare. The clearer and more comprehensive the information regarding your health becomes, the better your care will be.

User focus

We aren't doctors or healthcare experts, but one thing Google can create is a clean, easy-to-use user experience that makes managing your health information straightforward and easy.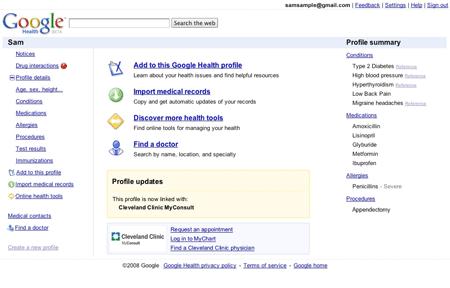 We are excited about Google Health and we would even happily sign up. But before that Google has to tell me; How does it plan to sell or share my medical data if I do give explicit permission? How will my data be used, and by whom? How will my permission be granted? Will I know who is using the data and how? Can I decide I want to share it with certain parties and not others?