After releasing Search Options panel a few months back, recently the Official Google Blog announced the release of Search Options for Google Images.
The new feature is designed to offer users with quick access to existing tools, such as search by color and image type . Color search finds images that are in color or in black and white, or images that contain a specific color, such as red, pink, or green. And image type search helps users narrow down their results while looking for a specific kind of image, such as a photo, clip art, line drawing or face.
Besides, Google has also revamped size search. Now, users are offered with a wide range of options. Apart from commonly searched-for sizes, they can search for an exact image size or any image larger than a certain size. Even, now users can find images of any size, including 70 megapixels or more.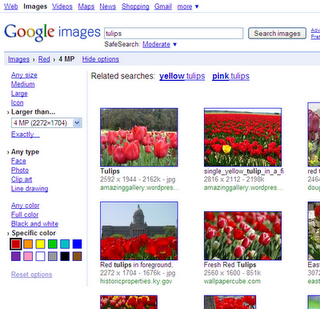 Users can try out any of the tools by just clicking "Show options…" in the blue bar on the search results page!