After the successful launch of Google TV Ads last month, Google has now introduced TV Campaign reports in AdWords. According to Google Analytics Blog. This new feature is another addition to Google's offline-online reporting features. This new feature shows the increasing integration between Google Analytics and Google AdWords. It will also enable the advertisers to measure the online effects of offline marketing.
Through the means of Google AdWord TV Ads, advertisers are able to publish TV ads to participating channels nationwide. They can upload their TV advertisement, in a video format, to their AdWords accounts and then start a campaign by choosing from more than 90 nationwide TV stations to air the advertisement on. An advertiser can also specify the time of day and week, audience demographic, and type of program he would like to target.
In order to view changes happening to the online traffic while a TV spot is running, an advertiser needs to his Google AdWords account with his Google Analytics account. Following are the metrics that an advertiser will be able to view about TV Advertisements:
Impressions delivered.
Number of ad plays.
Cost.
CPM.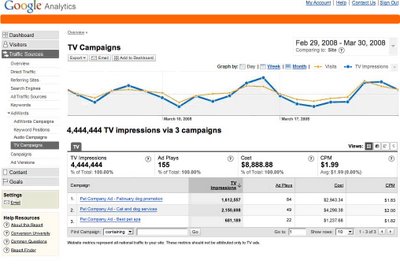 TV Campaigns are especially helpful for marketers taking advantage of the offline advertising options within AdWords. Google has also offered (for a limited time only!) to the advertisers, that Google will cover the cost of creating their TV ad (up to $2000) through Google's Ad Creation Marketplace