The latest Google webmaster official blog is talking about a new parameter to stop content duplication, which has always been a topic of discussion amongst webmasters and in the Google blogs too. The first post of Google on duplicate content came in December, 2006 and the most recent one was out last week. In the past three years, Google has been providing tips & tools for helping webmasters control the urls that Google crawls and indexes. These include: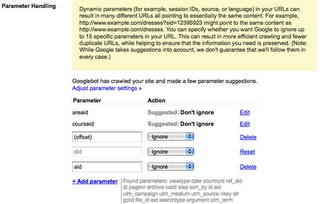 Google has now come out with the Parameter Handling feature that will help in managing duplicate content. It will allow webmasters to see the parameters that Google believes to be or not to be ignored during crawling process.
Most of the site owners prefer to serve the same content of one site on different URLS depending on the visitors of the site. With the parameter handling feature, owners can now suggest crawlers to ignore the parameters category, sessionid and trackingid. Google will take your suggestions into account and these will lead to efficient crawling of site and fewer duplicate URLs.
Google blog is also saying that the suggestions provided by users are considered hints but it will do best to take them into consideration. There may be some cases where provided suggestions can harm the site and Google is extra careful about them.