Google Trends is a service that can be used to see how popular certain search terms are across geographic regions, cities, and languages. Earlier this month, I had informed our readers about the update that Google had implemented to Google Trends. Now, via the Google Webmaster Central Blog, Google has announced that it has launched a new factor in the Google Trends, called 'Google Trends for Websites'. This provides Webmasters with a view of the popularity of their websites and their favorite websites as well. It also compares and ranks site visitation across geographies, and related websites and searches.
Here is an example of Google Trends for Websites at work. Let us take the release of Radiohead's In Rainbows album as an example. As per Google's annual Zeitgeist, Google posts the fastest rising terms and for the last quarter of 2007, Radiohead was the fastest rising search term.
Using Google Trends For Websites, we can see the search volume for Radiohead compared to 'in rainbows' over the last 12 months. You can see how the number of unique visitors that visit radiohead.com and inrainbows.com has changed over the last 12 months, the countries where the sites are most popular, the top related sites and search terms.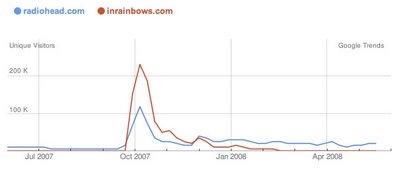 It is clear as per the above image that, October 2007, radiohead.com (the blue line) saw a huge surge in popularity. The release of In Rainbowsclearly drove high site-traffic to the band's website. The album's website, inrainbows.com (the red line), saw an even more dramatic jump, probably because that is where you could actually download the new album. And, it looks like site traffic to radiohead.com has increased overall, even asinrainbows.com traffic declined.
As of now, Google Trend for Websites is in the testing phase under the Google Labs and Google is constantly trying to experiment with ways to improve the quality of the data. Well! that would be a welcome change, because when I ran a couple of our clients' websites through Google Trend for Websites, it only showed data for the websites that had over 1000 visitors a day. For the websites with lesser number of visitors, it showed almost negligible data. But, this sort of biased behavior has never occurred with Alexa and Compete, who always show considerable data, regardless of the volume of website traffic.
In my opinion, compared to similar analytic services such as Alexa and Compete, Google Trends for Websites fall shorts of all expectations. Considering that, Google has the most volume of data, than any other service, I was expecting more from the new Google launch. It seems that this service is still in its infancy and needs to do a lot of catching up to do.