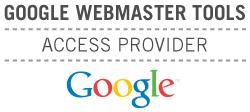 Via the Google Webmaster Central Blog, Google has announced the launch of 'Google Webmaster Tools Access Provider Program'. The goal of the program is to enable the domain hosters integrate Google Webmaster Tools for their users.
According to Google, "Qualifying hosting service providers from around the world can now make use of Google APIs to provide Webmaster Tools accounts to your customers at no cost . Providers can be recognized by the nifty Google Webmaster Tools Access Provider badge that they can display on their sites. With Google Webmaster Tools now available in 26 languages, hosting companies worldwide are invited to come on board. For example, IPOWER, StartLogic, PowWeb, and Strato customers just joined our webmaster community and now have direct access to the great tools we offer."
For all the Webmasters, who would love to take full advantage of this opportunity, Google has this to say, "Watch to see if your hoster joins this program, so that the next time you create a new site, everything will be all set for you. Better yet, send your hosters a link to this post and tell them we're here to help them help you."
The Google Webmaster Tools Access Provider Program is quite similar to the Google pilot program with GoDaddy, that has been in effect since November 2007 and has been quite successful as well.