Google has announced the launch of a new Image Search results page for Android, iPhone, and iPod touch to allow the suers have a better browsing experience with Images. Here are some of its features:
Allows you to scan up to 20 images on a single results page
Get the details related with the relevant image of your choice
Visit the webpage containing the image
View the image in full size
And more!
According to the official Mobile Blog:
"The new results page also supports "search-by-style" filters, which allow you to restrict your search results to people's faces, clip art, line drawings, or photo content." Leo Ting, Software Engineer, Google Mobile Search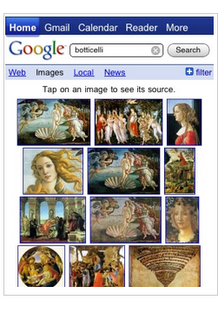 How To Use It:
Go to google.com and click on "Images"
Type your relevant search. Results will appear. Clicking on an image loads the details page
The "filter" that will be located on the blue bar allows selection of image style and SafeSearch settings
Other features will be available on the image details page
Did you enjoy this article?
Get FREE Updates
Get SEO, Social media and digital marketing updates straight to your inbox.