As a bunch of Android devices are lined up for launch, Google Maps Navigation has introduced GPS navigation to Android.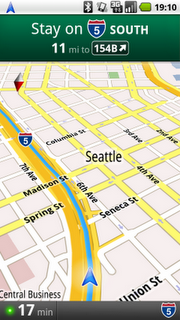 Google Maps Navigation helps in getting information like:
Street View
Satellite View
Most recent map and business data
With the recent addition, the Google Map will give turn-by-turn directions, automatic rerouting and 3D views. Along with this, it will have powerful search features including:
Search by Voice
You can now search a location by using hands-free, which is a safest option while driving.
Search in Plain English
If you don't know the exact address, you can still search for it by either entering the name of the business or other information.
Search Along Route
What all things you would need along the route you are driving? Whether it is gas, accommodation, food or coffee, you will get information about everything.