Navigation Bars are getting a makeover these days! This time, it is the turn of the Google Maps navigation interface that has received an update. Here are some of the changes:
The zoom bar is slightly redesigned.
One can now access the Street View by clicking the person icon that is located above the zoom slider.
The Street view is not cuddled in a box layer now. It has a bit more immersive as compared to the previous one. A small map, instead, is appearing at the bottom right!
Now it is possible to rotate the panorama photo by moving the "N" symbol of the top compass.
Here's an older Map design: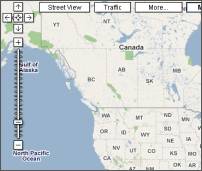 Did you enjoy this article?
Get FREE Updates
Get SEO, Social media and digital marketing updates straight to your inbox.