Google Maps is gaining some quick ground in popularity, while the market leader still remains to be MapQuest which controls 50.25% market share. However, Google has been the only one out of the major map site players to make a headway during last year, and has already captured more than 20% of the traffic.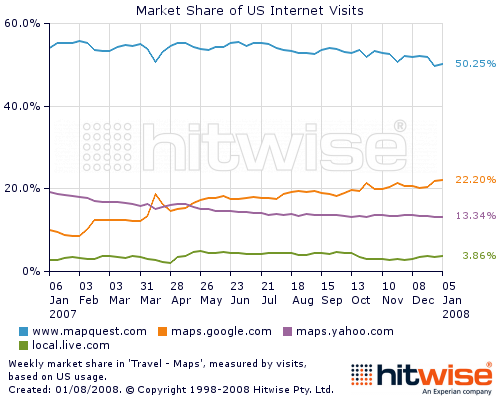 Google has been sending most of its map searches to Google Maps via organic, plus box and paid results:
"Google sends more of its own traffic to Google Maps than to Mapquest, a change that occurred last March. This can't really be attributed to an increase in consumers looking for Google Maps. We can measure this through Internet searches. Searches for "google maps" have increased but the term "mapquest" receives nearly 10x the search volume.
The change is that Google is sending more traffic to Google Maps for high volume generic terms and for variations on the MapQuest brand name. Google sent more traffic to Google Maps for searches for "maps" this year compared with the same week last year. The same is true for "driving directions", "map" and "directions" as well as variations on the MapQuest brand name including "mapquest driving directions" and "map quest"."
Via: Hitwise