Google has done some very interesting changes in the homepage of Google news. According to Google, they have replaced the old look of the google news homepage with a transformed version of an easier and understandable form, that is just easy to use and will help the users to guide through the relevant news, excluding the stale types and highlighting the amusing ones. This new homepage will have user friendly features, with which you can share the news with your friends and within your social circle. As of now, this unique feature is only available and can be accessed by the US users.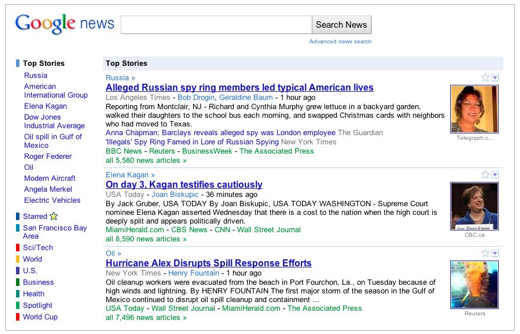 Google has added a dynamic section in this new homepage called as ' News for you'. This feature will let the users view the news of their interest. What's more! You can even change the genre of your news by hitting the "edit personalized" option, from where you can select the sub stream for the news category you are interested in. And you can always change the preferences as per your wish by clicking the "Reset Personalization" option, this will clear all the preferences you made.
In addition to this, Google now is giving more control over the news that you would like to appear on your homepage. As in here, you can mention the list of news sources whose news you would like see more often. The great thing about this feature is that it won't deprive you to see the major news of the day. So by this way you can personalize your news. As for sharing the news stories Google lets you share the stories with your peers through Google Reader, Facebook, Twitter and Buzz.