Google has come up another nice webmaster tool.
They have come with the launch of their On-Demand Indexing that could actually assist the webmasters in enhancing their experience with Google Webmaster services in a better way! With help of this tool, the users can inform Google about the newly updated pages of their websites, or the ones that are new!
How it will assist the webmasters?
As a result, Custom Search will immediately schedule these pages for crawl, index and even serve the pages in their CSEs with a short span of one day!
"How do you tell us about these URLs? You guessed it… provide a Sitemap to Webmaster Tools, like you always do, and tell Custom Search about it. Just go to the CSE control panel, click on the Indexing tab, select your On-Demand Sitemap, and hit the "Index Now" button. You can tell us which of these URLs are most important to you via the priority and lastmod attributes that you provide in your Sitemap. Each CSE has a number of pages allocated within the On-Demand Index, and with these attributes, you can us which are most important for indexing. If you need greater allocation in the On-Demand index, as well as more customization controls, Google Site Search provides a range of options."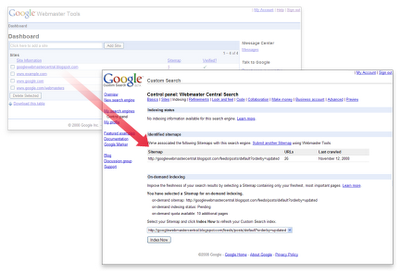 "Some important points to remember:
You only need to submit your Sitemaps once in Webmaster Tools. Custom Search will automatically list the Sitemaps submitted via Webmaster Tools and you can decide which Sitemap to select for On-Demand Indexing.
Your Sitemap needs to be for a website verified in Webmaster Tools , so that we can verify ownership of the right URLs.
In order for us to index these additional pages, our crawlers must be able to crawl them. You can use "Webmaster Tools > Crawl Errors > URLs restricted by robots.txt" or check yourrobots.txt file to ensure that you're not blocking us from crawling these pages.
Submitting pages for On-Demand Indexing will not make them appear any faster in the main Google index, or impact ranking on Google.com."-GOOGLE
Did you enjoy this article?
Get FREE Updates
Get SEO, Social media and digital marketing updates straight to your inbox.