According to Digital Inspiration, Google is shutting down Google Page Creator program and will now be replaced with Google Sites. It is one of the many Google programs currently in existence such as, Knol, Blogger etc. The Google Page Creator is a general web creation tool that has been a Google Labs projects since its inception.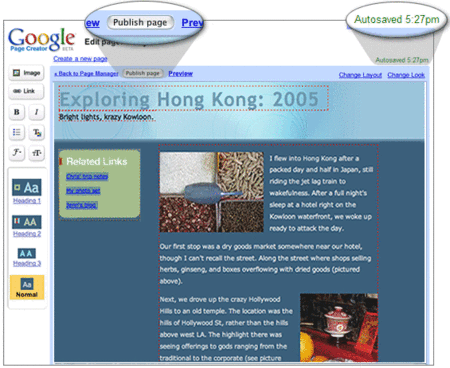 Over at Google Groups, the Official Google Page Creator Guide has announced the departure of the program. Here's the announcement as posted on Google Groups:
"Hello Google Page Creator Users,
We are no longer accepting new sign-ups for Page Creator because we
have shifted our focus to developing Google Sites. Google Sites offers
many of the capabilities of Page Creator along with new features like
site-level navigation, site-level headers, control over who can see
and edit your site, and rich embeddings like calendars, videos, and
Google docs. Simply put, we think that Google Sites offers a better
experience for creating web pages and websites. Consequently, we will
be shutting down Page Creator later this year.
If you are currently a Page Creator user, you can continue to use Page
Creator and your pages will automatically be transitioned to Google
Sites later this year. We are committed to making this transition as
smooth and easy as possible, and we will post more details as we get
closer to the transition time. You can also manually move your web
pages from Page Creator to Google Sites or other service providers at
any time.
Page Creator has always been a Google Labs project (Labs is our
"technology playground" where we let users test-drive experimental
products and give us feedback so we can innovate more quickly). Since
launching Page Creator in Labs, we've learned a lot and have
incorporated those lessons into Google Sites. We think the Labs
program, which allows users to try new things before they're fully
baked, lets us innovate faster and ultimately create the best possible
products.
We seriously thank each and every one of you who have taken the time
to use, write about, offer suggestions, and become passionate about
Google Page Creator. Sites will be an exciting way to continue and
extend the great things you've been doing; we can't wait for you to
start using the service.
Sincerely,
Mike and the Google Page Creator and Sites Teams "