According to Search Engine Land, Google has launched the Google Merchant Search, a service that allows users to compare shopping services like loans etc. There has been no fanfare about this release and till now it has maintained a very low profile.
As with all new Google services, the Google Merchant Search service is also in the 'Beta' mode and is supposedly active mostly in the UK. Most of the service related answers are available at the Google Merchant Search FAQs. Here are some of the critical facts about Google Merchant Search, to keep things in perspective.
What is Google Merchant Search?
Google Merchant Search is an easy new way for you to find products or services from providers who match your needs.
What products or services are supported through Google Merchant Search?
The service is currently only available for secured loans from financial services providers.
How do you choose which providers to show me?
Our search results are based on the criteria you provided in your request; we compare your request with our list of participating providers, and show those that are most relevant for you. Participating providers pay Google when someone requests a quote through this system.
How does Google connect me to the provider?
You submit your contact details and request a time to speak to the provider. A Google operator will call you at the appointed time, then connect you with the provider. Because we do not share your contact information with the provider, they won't be able to contact you again about your request unless you decide to give them your contact details.
Do I have to purchase any products or services if I contact a provider through Google?
No. Google Merchant Search is only a way to connect you with providers relevant to your needs. You are not obligated to make any purchase or accept any offer during or after using this service.
Here are some screen-shots of the Google Merchant Search:
This is how the new sevice is advertised in the Google SERP (Search Engine Result page). [accessible only through google.co.uk domain].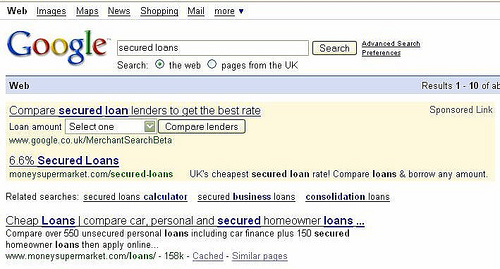 Whn you click on the advertisement, you are immdiately redirected to Google Merchant Search.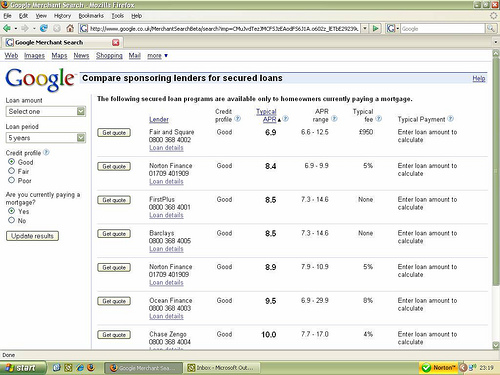 It has been one of Google's most low profile services till date. Maybe after the Beta trials, Google might shout out about Google Merchant Search. Till then, all we have to do is, to visit the site and try it out.