Gmail labs recently added Google Search Box to Gmail Inbox interface. The new option provides the feature to search Google even while chatting or reading your mails.
Here's a preview of the Google Search Box: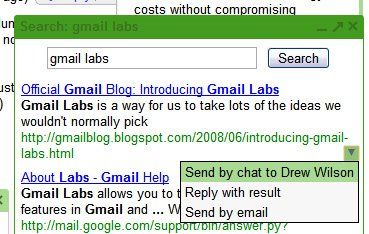 To experience this new option just activate it from the Labs tab under Settings, and you'll notice a search box displayed below the "Labels"section on the left side of your inbox. Now, type in your query in the search box and a window gets displayed at the bottom of the screen with the first few search results. The moment you click on the search result it'll open up a new window to make sure it's what you are looking for. Once you've found your result move your mouse over it and a pull-down menu opens up, which you'll allow you to do stuff with the search result. However, the menu depends on what you're doing in Gmail. For instance, if you're reading your mails, then you can reply with the search result as the first thing.
Some users who have tried this new option found the left side of their account getting crowded. To avoid such a situation, it is better to turn on "Navbar drag and drop" option. It will allow you to move the search box to the top.