A few days ago, we informed you about the release of Google Search Options, which are collection of tools that allow users to refine their results and generate different views.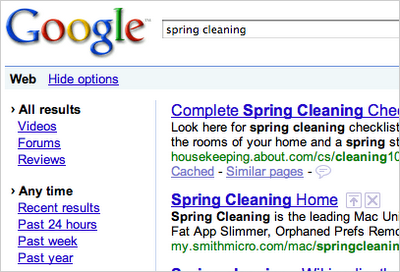 The primary idea behind Search Options panel was to enable browsers find information more quickly and easily and incorporate them within the results page. Although, the panel looks too simple but a lot of integration happened between design, research and engineering, in order to produce the best possible experience.
Google team started by generating a broad range of directions, which were further refined through design sessions and reviews. Once the team was confident about certain concepts they used eye-tracking and usability studies to collect user feedback. The collected information proved quite helpful to know how people understood the options in the panel and interacted with them.
The team constantly modified their designs after every study, incorporating changes from the order and behavior of the options, to the panel location and the way people handled it. Close attention was also given to the visual design of the Search Options panel.
A number of tests on live search was performed to see users reaction about Search Option panel and its different options. This research complemented was backed by feedback to get a better idea of people's understanding of Search Options.
Google still continues to monitor people's interaction with Google Search, even after the launch of the panel.