Google's dominance in some countries is really surprising! For example, consider India and Brazil, the two high potential markets for online marketing now. In these countries, people are spending most of their time on Google.
ComScore released a report showing astonishing numbers about what is happening in these countries and how Google dominates there. As per this report, people in India are spending about 29% of online time on Google properties, while in Brazil, it is around 30%. Total average amount of time spent worldwide on Google properties is estimated up to 9.4%.
Here is the table showing the time spent on Google in different countries: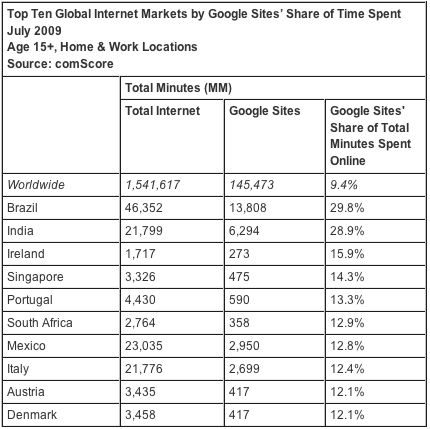 ComScore says that Google accounts for almost 88% search in India, while 90% searches in Brazil. Have a look at the following numbers:
India
Social networking: Google's Orkut has 68% of time spent in this category
Maps: Google Maps has 64% of time spent
Multimedia: YouTube has 83% of time spent
Brazil
Multimedia: YouTube gets 92% of time spent
Maps: Google Maps has71% of time spent
Social networking: Orkut has 96% of time spent
Google expects further rise for its searches in these countries as the scope of online marketing there is ever increasing.