It has long been a piquing question that does having .org domain improves your sites ranking? However, now we have a reliable study conducted by Virante to prove it is so. It has completed the preliminary investigation and the findings were published on the Google Cache.
For the study it purchased 3 domains, identically named, with different top level extensions (.org,.com,.net). Further they even created 3 separate sub-domains on each of these domains, for result duplication and randomizing the order of submissions to Google sitemaps. Lastly, it created identical content on each site and identical sitemaps.
The results of the conducted test proved that the .org subdomains outranked all other extensions. However, though the results does have the scope of being challenged, still if you see the image, it does show that there may be some bias towards the .org top level domain. These results are said to be true on approximately 80% of datacenters.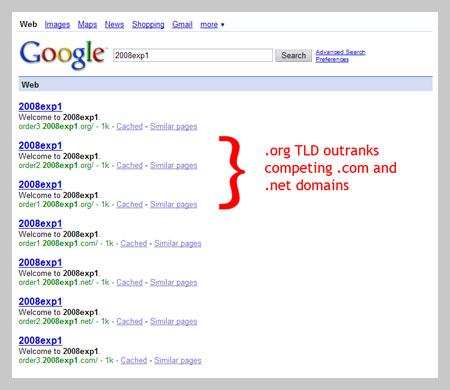 However, the study also offers the other possible causes for the result. It suggests that while Google's shifting algorithm is built on profiling characteristics, a .org bias might exist today, it could easily shift tomorrow if spammers start hoarding .orgs. Also, it is that Google gives bias to .org subdomains, but not .org domains. So we are of the opinion that further study is needed in this matter. Therefore, Virante should expand the number of test subjects and testing with & without subdomains.