There are reports that Google has made changes to the way it uses to display search results. Since there is no official announcement for the same, it can be said that the search giant is still experimenting with the latest enhancement.
Talking about the changes, these are actually changes that would often get unnoticed with birds-eye view. First, the Google logo at the top of the page is now smaller. The second change that would catch the eyes of readers is the broaden space in between the search box and the first row of the search results page.
Google's search results are now indented and the page size indicator has been removed which gives an idea how long the page would take to load. Google removed the word "pages" from the previous "similar pages" link as well.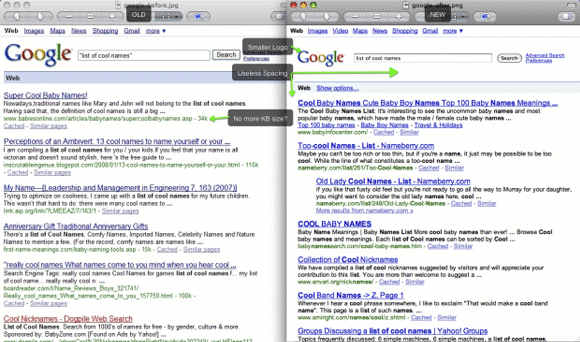 With the latest enhancement, it would be interesting to notice if there is any improvement in the speed of loading the search results! It is yet to know the reasons behind as to why Google made the changes. Let the time come and find out if the giant has done it for aesthetic purposes or revenue generation!