One of the recent reports by Pingdom states that Google made an astonishing profit of $209,624 per employee in 2008. The report also indicated that the profits earned by Google has surpassed many other large tech companies like Microsoft, Apple, Intel and IBM.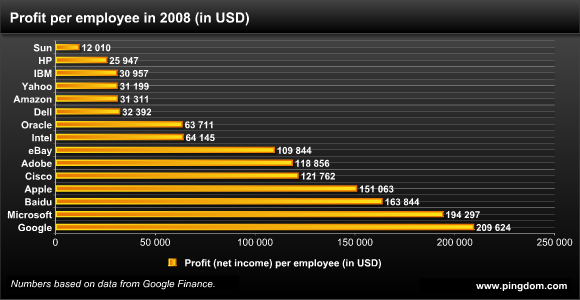 The report included company names like Adobe, Amazon, Apple, Baidu, Cisco, Dell, eBay, Google, HP, IBM, Intel, Microsoft, Oracle, Sun and Yahoo.
Following are some of the companies that earned almost the same profit/employee:
More than $30k: IBM, Yahoo, Amazon and Dell
Around $64k: Oracle and Intel
Around $120k: Adobe and Cisco.
According to the report, Microsoft earned an impressive $194,297 per person, in spite having four times as many employees as Google – it's quite an achievement. However, companies like HP and IBM are by far the largest companies listed in terms of their size, but have a relatively low profit margin per employee.