Google Trends is a service that can be used to see how popular certain search terms are across geographic regions, cities, and languages.Ever since the launch of Google Trends in March 2006, Google has been tweaking it up to keep it in sync with the ever evolving trends. Now, Google has launched the latest version of Google Trends. With the new Google Trends, you can now view the numbers on the graph and can also download them to a spreadsheet.
Over at the Google Blog, Google has explained the new updates to Google Trends in a very 'delicious' manner. The comparison in the example is between two prominent ice cream flavors, vanilla and chocolate. The aim is to learn as to how many searches are made for each flavor.
First, let's take a look at the searches for vanilla ice cream and chocolate ice cream separately. Below is the image for the graph depicting the searches made for Vanilla.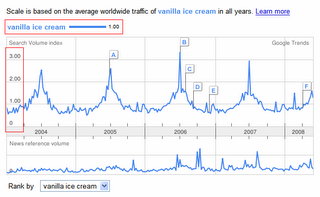 In the graph above, there is a number at the top of the graph as well as on the y-axis of the graph itself. Just as a map might ├óÔéČ┼ôscale├óÔéČ┬Ł to a certain size, Google Trends scales the first term you've entered so that its average search volume is 1.00 in the chosen time period. Hence, as shown in the above image, 1.00 is the average search volume of vanilla ice cream from 2004 to present. The data also shows a spike in mid-2006 which crosses the 3.00 line, indicating that the search traffic had been three times the average for all years.
Here is how chocolate fared in the Google Trends graph.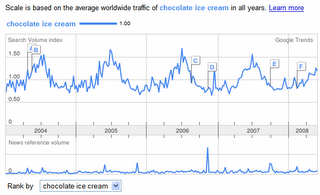 Now let's see what are the results, when we compare the data of the two flavors.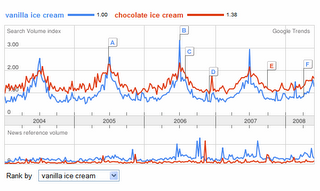 According to the numbers at the top of the graph, vanilla ice cream has about 30 percent less search traffic than chocolate ice cream. The data has also been ranked by vanilla, because it was the first search term that was used. Still, if you feel like probing more, then you can always use the drop-down menu beneath the graph to change the ranking to chocolate.
Google Trends is designed to help a user explore the popularity and seasonality of products. With the new update to Google Trends, it now allows you to easily export Trends data to a .csv file. This 'Comma Separated Value' file can then be opened in most spreadsheet applications. In addition to the .csv, Google Trends also offers a user the choice of using either relative scaling or fixed scaling, when exporting the data.

Sounds like a nice addition to a very efficient tool. It would greatly benefit entrepreneurs by giving them data about the latest trends.