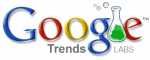 Google Trends program will get a new look with a new application interface program. According to Marissa Mayer, vice president of search products and user experience at Google, the interface will be released soon. With Google Trends people can search the latest trends in the market.
During the Webcast demonstration of Google Trends on Tuesday, Mayer said, "the company would eventually release a Google Trends API." Further, she added "the company would make it possible to download data from Google Trends into spreadsheets". No time frame for either action was provided by her.
At Google Trends, one can also compare specific searches. Here one can get the search volume for search terms changes over a particular time period with interactive graphs, and even get list of top 100 searches for any given day. To know about the Google Trend features, click here.