It was never easy for the webmasters to suppress their queries for a long time. Hence, they started asking various questions regarding the sources for the broken links!
Now it was time for Google to react!
With the assistance of Webmaster Tools, users can now see the page from where a particular broken link is coming from! I am sure that this knowledge would surely assist the webmasters in ensuring that the users find their sites and their links are also credited to the websites.
As Googlebot crawls the entire web, it side by side stores a list of all the links that it finds during the crawling process! Now this particular list is used for two purposes:
For crawling more pages on the web!
In calculating the rank of the page!
If your website has a page with the URL www.abcdef.com/mypage.html and some other person links to it using the URL www.abcdef.com/mpage.html, then a lot of things can happen. Let us have a look at them:
Some users will click on this particular link but they will arrive at the 404 page for your site. So naturally they won't be able to get the exact content that they were looking for.
Googlebot will crawl the web and in the process, it follows that link and instead of finding the correct page of your site, it will receive a 404 page.
Google would not be able to find that link in order to provide a specific page on your site link credit.
This is due to the fact that it will have no page to credit.
So the fact is that knowing about the broken links of your website is very valuable!
Now let us have a look as to how Google answered the queries:
"We know it was difficult for those of you who wanted to identify the cause of a particular "Not found" error, in order to prevent it in the future or even to request a correction, without knowing the source URL. Now, Crawl error sources makes the process of tracking down the causes of "Not found" errors a piece of cake. This helps you improve the user experience on your site and gives you a jump start for links week.
Check out our updated post on Google Webmaster Central Tips: Pros and Cons of Inbounds Links.
In our "Not Found" and "Errors for URLs in Sitemaps" reports, we've added the "Linked From" column. For every error in these reports, the "Linked From" column now lists the number of pages that link to a specific "Not found" URL."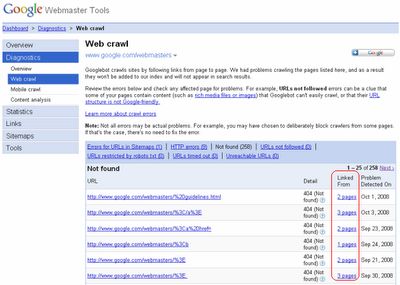 Clicking on an item in the "Linked From" column opens a separate dialog box which lists each page that linked to this URL along with the date it was discovered. The source URL for the 404 can be within or external to your site.

For those of you who just want the data, we've also added the ability to download all your crawl error sources at once. Just click the "Download all sources of errors on this site" link to download all your site's crawl error sources.

Again, if we report crawl errors for your website, you can use crawl error sources to quickly determine if the cause is from your site or someone else's. You'll have the information you need to contact them to get it fixed, and if needed, you can still put in place redirects on your own site to the appropriate URL. Just sign in to Webmaster Tools and check it out for your verified site. You can help people visiting your site—from anywhere on the web—find what they're looking for.