A recent Google Webmaster blog is talking about the release of new features "Malware Details" and "Fetch as Googlebot" under the "Labs"label. Webmaster team has tried to quickly finish the work and make the feature available to users, so that it can get feedback during the development phase only.
Since, the features are available early and there are chances that they won't be robust and will break at times.
Here is the information about the Malware details developed by Lucas Ballard"
"Before today, you may have been relying on manual testing, our safe browsing API, and malware notifications to determine which pages on your site may be distributing malware. Sometimes finding the malicious code is extremely difficult, even when you do know which pages it was found on. Today we are happy to announce that we'll be providing snippets of code that exist on some of those pages that we consider to be malicious. We hope this additional information enables you to eliminate the malware on your site very quickly, and reduces the number of iterations many webmasters go through during the review process".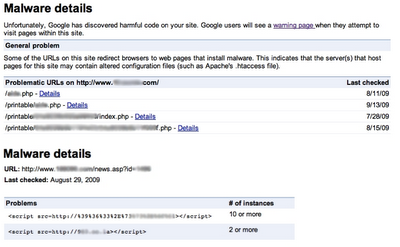 You can get more information about the feature at the Online Security Blog of Google.
Fetch as Googlebot developed by Javier Tordable
"What does Googlebot see when it accesses my page?" is a common question webmasters ask us on our forums and at conferences. Our keywords and HTML suggestions features help you understand the content we're extracting from your site, and any issues we may be running into at crawl and indexing time. However, we realized it was important to provide the ability for users to submit pages on their site and get real-time feedback on what Googlebot sees. This feature will help users a great deal when they re-implement their site with a new technology stack, find out that some of their pages have been hacked, or want to understand why they're not ranking for specific keywords".