Sticking with tradition, Google unveiled it's April Fool's Day joke in the form of 'Gmail Custom Time'. A feature that would allow a user to send e-mails dated back in time. In the 'compose' section, there is a button labeled, 'Set Custom Time'. This would allow the message to be sent at custom date chosen by the user as well as, it can be also be made to appear 'read' or 'unread' in the recipient's inbox. To the disappointment of many, these super-cool features aren't available in the real world, just in the Gmail release notes.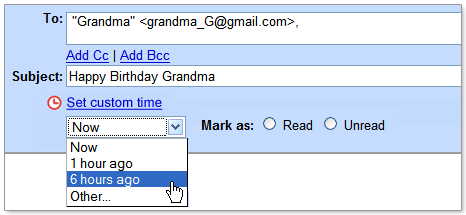 Some of the other hilarious Google April Fool's Day's jokes:
In collaboration with the Virgin Group, Google decided to leave behind NASA in the race for human settlement. It has announced joint project for permanent settlement on Mars, named 'Project Virgle'.
In Australia, Google announced the launch of a new search protocol called 'gDay'. A new beta technology that will search pages 24 hours before they are created. Good bye Einstein!
These are some of the few hoaxes that Google has come up this year for April Fool's Day.
Google's April Fool's Day big bash for its users continued on after the Gmail "Custom Time" prank. The jokes continued throughout the day, all over the world. Some people were taken by surprise, and other who were expecting these pranks, couldn't stop laughing. So we decided to dive a little deeper into the lighter side of the otherwise Internet giant.
Google Book Search: Now when you search for a book in Google Book Search, not only will you find what you were looking for, you will also be greeted by a pleasant smell. According to Google, it has developed a technology that will enable it to embed pleasant smells, in your web browser, while you are in Google Book Search. Now that's an idea, a million dollars worth (or a million tulips worth, whatever Google likes).
Google Talk: HHRY. Confusing? Well not to the brilliant brains at Google. In order to protect our environment and help lower CO2 levels, Google Talk decided to shorten our typing characters in the chat window. Ah! Now we get it. Less typing, less exhaustion, less CO2. Just brilliant!

(PS: HHRY= Hi How Are You).

Mars Settlement Project: It was announced that Google in conjunction with Richard Branson's 'Virgin' corporation, is planning to create permanent human settlements on Mars. That's really interesting. I can't wait to see this URL,www.google.mars (it doesn't work in reality). God save NASA.
You Tube: If your are looking for the featured Obama speech on You Tube, wait till you see this. All featured videos on the home page of You Tube are linking to Rick Astley's, 'Never Gonna Give You Up'. Way to go You Tube. Finally we got a refreshing 'change' from Obama's 'Change'.
Google's Wake up Kit: Google Calender has incorporated a new feature called 'Wake-up Kit'. This feature is designed especially for those who have no respect or regard towards the hardworking alarm clocks. First a SMS message will be sent to your phone. If that doesn't work, Google has more coercive and inhumane ways of waking you up. We have termed this innovation, 'Wraith of the Alarm Clock'.
Orkut: If you log on to Orkut, You'll find out that the logo has been changed to 'Yogurt'. Doesn't make any sense, but then again it's a glorious day for the 'fools'. So who cares?
Google's Ad sense: Today, Google Ad sense announced the launch of 'Ad Sense for Conversations' (http://adsense.blogspot.com/2008/04/introducing-adsense-for-conversations.html). It means that next time you're talking to your wife, you just might see an advertisement right on her forehead. Now that's what we call a touch of humanity.
There have been a host of other April Fool's Day pranks played by Google this year. To read more about them (and I'm sure you will), check this link. http://blogoscoped.com/archive/2008-04-01-n71.html.