Recently, we had reported that the real time quality score algorithm would be live within days. Many are now stating that they are actually witnessing it live in their campaigns. Here is a screen shot: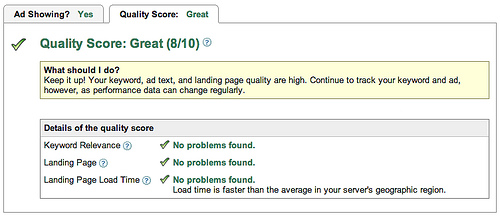 Isn't it amazing?
Last week, a lot of complaints were recorded, that certain advertisers are finding this long wait very tedious. They wanted to know how they would be impacted by this.
A lot of mixed reactions have been recorded. Let us have a look at some of them..
I'm 100% sure it's live in my account and it's ugly.
I bet this causes Google to lose money, not make more money. People are really getting fed up with all this quality score BS and lack of transparency. I bid on my own @#$@!#$@ brand/site name and my quality score is Poor. Whatever google!
I'm seeing the new QS now on my accounts. No more MinBids, or inactive keywords, just an "estimated bid to show on first page". So far there are no surprises, all my ads are running as expected and ad ranks are unchanged. Pretty much transparent so far. Will continue to monitor.
It seems to me to be a dilution of the QS as it allows more ads to be shown.. The previous non dynamic thing was a take it or leave it kind of a thing.. This allows more options for Google to use up ad inventory