Google has undoubtedly ruled the search engine industry and technology through the years. One of the main reasons for their success has been impeccable research and continuous innovation to the search algorithms, enabling faster easier, effective search experience to the users.
The Google experimental results launched last week have been found intriguing by many as more and more people try their hands at them. The official statement from Google states the rationale as "There have been a lot of recent improvements to web search, but the appearance of results themselves has been pretty constant — 10 or so web pages in a vertical list. Frequently this is exactly the right format, but for some searches you need more options and more control. That's why we've created our experimental search page to let you try out some of our newest ideas."
While the experimental Search isn't news, each of the several views and features included in the experimental searches serve a purpose, thus facilitating your search in addition to making it more comprehensible.
The Timeline View: With this feature you can search results on a timeline, map, or in context of other information types, and view the key dates, locations, measurements, and more from select search results to view the information in a different dimension. This feature is best suited to a search related to people, companies, events and places and shows all the data found for each result, to help you select the best choice.
With the timeline feature you can refine your search with the help of the filter on the right "Only show results circa," it shows only the results from the period you specify.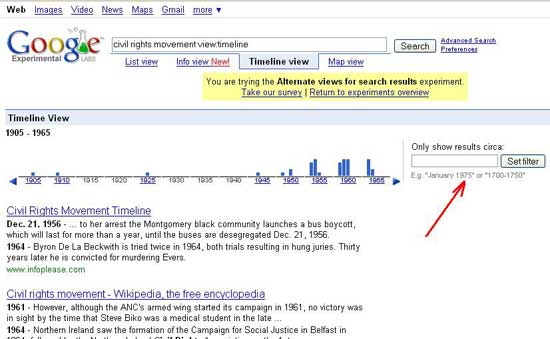 The Map View: The map view lets you see results that include locations and have been classified in a scrollable left pane. On the right side you'd see a map with each of the locations labeled and marked. This can be quite useful and informative if you search for an event such as if you want to find out about biology conferences happening in your state or perhaps some jazz concert happening around town. While such information is on the web and accessible but it is scattered, this feature makes it easier for you to find it. The feature plots some of the key locations contained in your web results onto a map. And if you press "Update Results" button near the top left corner of the map shows more results in the area you're looking at.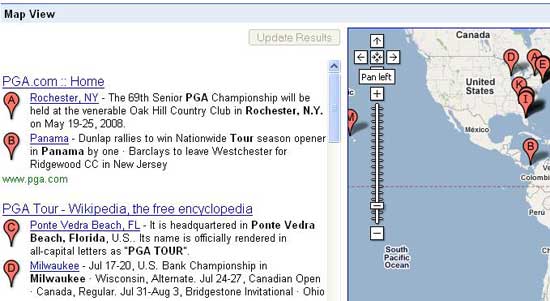 The Info View: Initially it doesn't appear very different from the usual search results but it lets you specify what you want to see in the results viz. Your search terms, Dates, Measurements, Locations and Images from the panel on the right side. This one is especially useful if you run a search and find many of your results are looking similar as it may highlight the differences between results so that you can get to the most relevant one.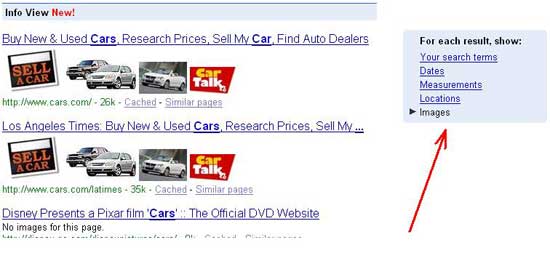 Keyword suggestions: Here is a nice way to hasten your search, especially if you are not very fond of typing too much or normally use "two finger typing," moreover you can get an idea about what all exists about a keyword you've typed in. The fact that the feature works real time is a great asset.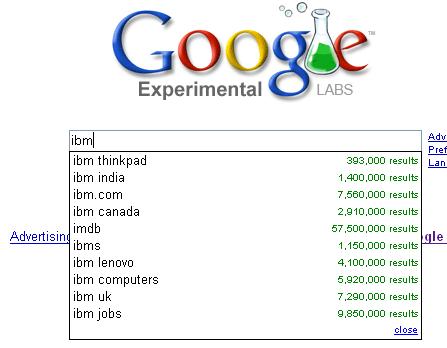 Keyboard Shortcuts: Let's you navigate search results quickly and easily, minimizing use of your mouse. A great improvement to the usual usage of the tab for the purpose, however the shortcuts at present are a limited, hopefully their quantity would cover a whole range of actions in the future.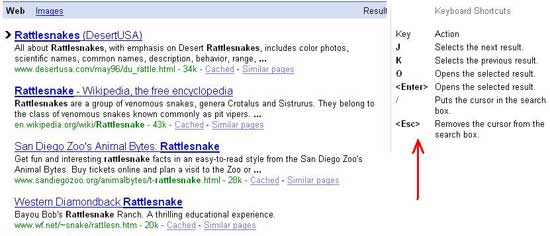 Left-hand search navigation: Dig deeper with this one for a particular type of content viz. patents, products or news. Moreover, if to see additional results of a particular content type, you would have to click a link in the left-hand search navigation. Another way of refining your search is to click on related search terms.
Right-hand contextual search navigation: This one is similar to the left-hand search navigation, the difference is that right-hand contextual search navigation allows you to search deeper in a particular type of content from the right side of the page.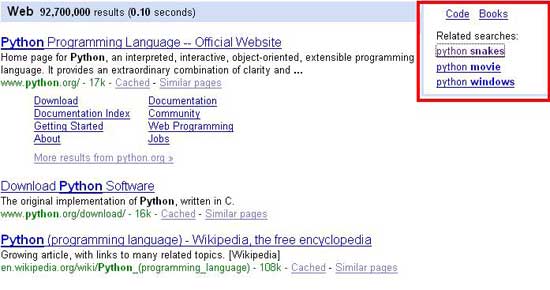 While these features have been all well thought out, they may not fare well with the execution, sometimes specific queries and choosing the right keywords may yield better results than through the tools, perhaps that's why they're still experiments!
You can access the experiments here.
Did you enjoy this article?
Get FREE Updates
Get SEO, Social media and digital marketing updates straight to your inbox.