During November last year Boston's Northeastern University and technology company Jarg sued Google for patent infringements, see: Northeastern University Takes Google Inc To Court!. Now we have a response from Google, and it's an outright denial of the charges leveled against them.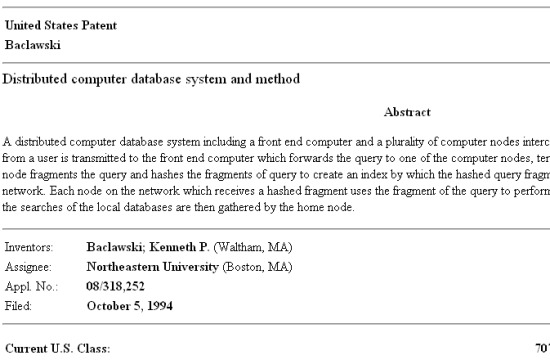 Picture Credits: The US Patent & Trademark Office
The patent #5,694,593 attributes the patent to Kenneth P Baclawski who's been professor from the Northeastern University as well as one of the founders of Jarg. The patent is about the search technology wherein a search query is fragmented into smaller chunks and distributed across multiple systems in a network to enhance processing speeds. The allegations follow that Google uses the technology which has been exclusively licensed to Baclawski.

Google has responded saying that the patent is invalid which has been rebutted by the other party. It seems it will be a couple of years before the lawsuit is sorted out.