"Freshness is everything" as far as the documents are concerned! That is what Google thinks about the whole issue concerning the "stale vs fresh contents" topic.
Google's Historical Data Patent reviewed at WebmasterWorld on what Google and SearchEngineJournal has to remark on fresh documents as well as stale contents.
Bill Slawski has done a great job by giving these examples:
The Constitution of the United States is an old document, but it's not stale. A news article about the "World Series" from 1918 may not be what a baseball fan wants to see when searching for "World Series" this October.
While Babe Ruth is well known as a feared slugger for the New York Yankees, he's not as well remembered from his earlier days as a Boston Red Sox pitcher who threw a shutout in that 1918 World Series. Interesting information, but again, not what a searcher is likely to be looking for in an October 2008 search for "World Series."
A search engine might look at information from different sources to learn about:
The age of a document
The age of links leading to and from that document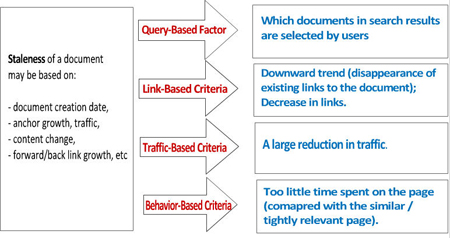 According to Google,
Stale content refers to documents that have not been updated for a period of time and, thus, contain stale data (documents that are "no longer updated, diminished in importance, superceded by another document").
The staleness of a document may be based on:
document creation date,
anchor growth, traffic,
content change,
forward/back link growth, etc.
According to Google patent, there are 4 factors that determine the "stale" factor of a document:
Query-based factor;
Link-based criteria;
Traffic – based criteria;
User-behavior-based criteria
Query-based factor: are those factors that analyze as to which pages in SERPs are selected by users.
Link-based factor: analyzes the page backlinks.
Traffic – based criteria: If there is a large reduction in traffic, then it may mean that the content or the document is stale.
User-behavior-based criteria: if people spend too little time on the page, then chances are that the contents are not fresh.