Well, we all have been benefited from Google Maps for a long time now when it comes to search for locations worldwide. But, how about getting a more detailed information about a particular place, beyond just knowing its geographical location? Even though knowing only the geographical location of a place is the objective, but it would definitely help travelers more when they would get the idea of what the place is like. And this is what Google is doing for its users!
Now, users searching for locations with Google Search can view images and pictures of the places along with a map. The images are most likely to be the famous and important sights of a particular place. For example, if a user searches for Paris, he would see: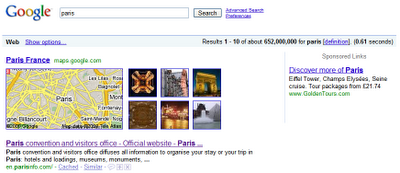 Users can click any of the images that can be viewed with the map and go to the photos layer on Google Maps, where they can browse various geo-tagged photos. The new enhancement in Google Search sounds quite appealing and helpful. Hope, we will have a great time now looking for locations on Google while getting a taste of the alluring user-contributed photos on Google Maps.