Earlier today we discussed some mind boggling statistics about search marketing and its efficacy, see: PPC Ads Are Ignored 88.5% Of The Time!. Another study, this time about search marketers by SEMPO, explores the earning potentials of SEMs.
The salaries actually have a surprising range, with the lowest ones bordering around minimum wages $60/year to the highest ones being around $70,000 a year. The years of experience show a positive correlation with the salaries. So, if you're an aspirant then you need at least five to seven years of experience to be in the income range of $100K to $200K.
A key finding is that about 33% of in-house SEMs are managing monthly budgets of over $200,000, this figure was a surprise for everyone. "We anticipated a lower ceiling of monthly spend closer to the $100,000 range so we were pleasantly surprised," quips Duane Forrester, co-chair of SEMPO's In-House SEM Committee and Lead SEO Program Manager with Microsoft.
The figure of $200K spend also shows that the search marketing industry is in good health, "it syncs up with SEMPO's current trend projections that SEM spending will double by 2011, to more than $18 billion," Forrester said.
The figures also reflect the newness of the SEM industry as most of the respondents had less than 5 years of experience and only a few held the top positions.
Forrester vouches for the reliability of the statistics of so many drawing the six figure salaries, and offers some advice for budding SEMs "SEMs need to be realistic about their careers and plan as they would for any viable career opportunity…if you're ready for a six figure job, go get it! There are a lot of good jobs out there."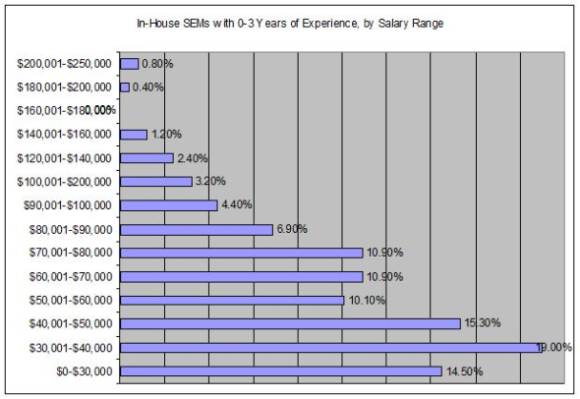 Picture Credits: Sempo