Last month Microsoft Corporation and EDGAR Online Incorporation announced a strategic alliance to bring advertising to the EDGAR Online audience and content to the MSN portal. Further, Microsoft has even become an exclusive provider of contextual and paid search ads for The Wall Street Journal Digital Network (WSJDN).
So with its expanding horizon for the contextual ads, the adCenter blog tells us how an advertiser can get more quality clicks from its contextual network, which includes WSJ.com, Barrons.com, Marketwatch.com, as well as MSN Money, CNBC.com, EDGAR Online, FOX Sports, MSN Entertainment and other partner sites through Microsoft Content Ads Beta.
Microsoft Content Ads Beta is currently only available in the U.S. Through these content ads, an advertiser can place content-targeted advertisements on relevant web pages across the Microsoft network and partner sites. This in return gives the adCenter client, the perfect opportunity to potentially increase his/her adCenter impressions and clicks with Microsoft's expanding network of participating high-quality sites.
Another good thing with the content ads is that an advertiser can easily extend his/her search campaigns to Content Ads and can even set different bid prices for content clicks by using the Advanced Bidding function at both the ad group and keyword level. While with advanced reporting features in the adCenter Report Center, the advertiser can see how the contextual ads are performing.
This screenshot illustrates how to choose Search, Content, or both distribution channels when creating a new campaign.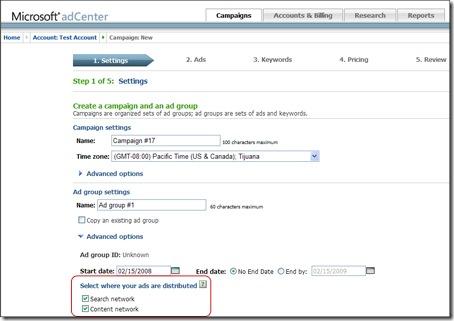 Also, following are the tips shared by the adCenter blog to get more out of the Content Ads campaigns:
Increase the bids:
Start with competitive bids to position your ad to appear. Remember that, unlike Search ads, there are a limited number of ads that appear on an editorial page – typically, 3-5 slots.
Monitor the ROI with conversion tracking:
Track your ROI with adCenter conversion tracking to help you regulate competitive bidding and adjust your bids as needed.
Write compelling ad copy:
Since users are not actively searching for products or services during a contextual ad experience, ad copy should be customized to attract a more passive audience.