When we type a search query in Google, a number of search results are displayed in front us. Some of them are images, some of them are terms that are written in boldface and so on… Where do your eyes go first when you see that particular results page?
In a very interesting post on the Official Google Blog, Google has tried to provide us with an insight on their usability and eye-tracking studies — tests that help them know what their search results pages should look like.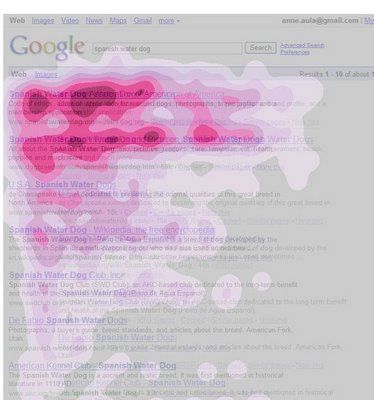 The image above, is one of the examples to help us understand as to how users interact with a standard results page with 10 links. Here is what Google has to say on this image:
"Based on eye-tracking studies, we know that people tend to scan the search results in order. They start from the first result and continue down the list until they find a result they consider helpful and click it — or until they decide to refine their query. The heatmap below shows the activity of 34 usability study participants scanning a typical Google results page. The darker the pattern, the more time they spent looking at that part of the page. This pattern suggests that the order in which Google returned the results was successful; most users found what they were looking for among the first two results and they never needed to go further down the page."
That means that a majority of people find what they are looking for in the first two results on the page only. And also, search result rankings play a very important role!
"We ran a series of eye-tracking studies where we compared how users scan the search results pages with and without thumbnail images. Our studies showed that the thumbnails did not strongly affect the order of scanning the results and seemed to make it easier for the participants to find the result they wanted.
The thumbnail image seemed to make results with thumbnails easy to notice when the users wanted them …

…and the thumbnails also seemed to make it easy for people to skip over the results with thumbnails when those results were not relevant to their search."

Did you enjoy this article?
Get FREE Updates
Get SEO, Social media and digital marketing updates straight to your inbox.