The clinic consists of a live, interactive landing page optimization clinic run by industry experts. Audience members will be asked to submit websites and any paid search campaigns prior to the clinic and samples will be chosen for live analysis.
Moderator: Kevin Heisler, Executive Editor, Search Engine Watch
Speakers: Jimmy Ellis, Director of Optimization Research, MarketingExperiments, Marc Wachen, CEO and co-founder, Optimost, Scott Miller, President and founder, Vertster
The session kicks off and suggestions and advice follow: landing page optimization is important and it's the small things about it that matter the most, similar to the maxim "less is more." the question you need to ask is why would you want to inundate a ready to buy customer with info that he could find elsewhere and with ease? Even if you consider a prospect who's interested in details and that the techno part of you gadget is the latest, wouldn't such a customer want to get the details from a knowledge based site, or he might have already found out all the info beforehand.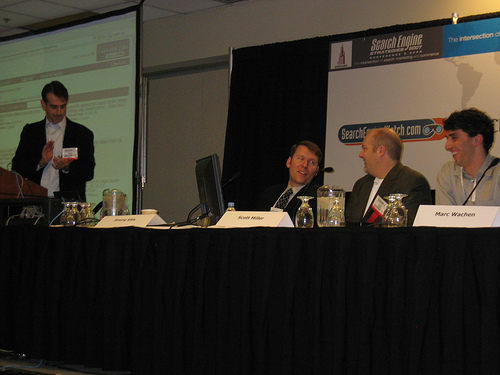 He suggests that what's common to all humans is, that when they're ready to buy, they're indeed ready for it. He cites the his girlfriend's example, says that they own a home brew kit, costing a $200, and she'd found out all about it which he didn't.
You need to identify what's the most important thing in a landing page and focus on that eg How do, you the prospect act? What you have here is Marketing 101, for those who are ready to buy show'em how easily they can, those who aren't ready, make sure they are, and for those who're doubtful, instill trust in them.
It's Miller now, he talks about the three Cs, the first is to Capture attention, 2.Communicate the value of your product & 3. Close the deal, you need to ask for the sale and ensure that it's all easy and smooth to make a purchase.
Ellis emphasizes the point of building trust, and how important it is. Also that if you've users who're happy, let the new ones know about their good experiences. Eg if you've made your site secure then you should make this info common and communicate it.
Landing Page Optimization Clinic: SES Chicago 2007, Day 4

,