The Live Search mobile team recently launched two new features – MSN video search and MLB dashboard. The new features are expected to make mobile search more smoother and faster.
With the help of these features users will be able to view videos on latest events like Obama's First 100-Days event. All you need to do is type "obama" in the mobile phone search box, and click the "MSN video" section to tune in. If you're a die-hard baseball fan then to keep track of your favorite baseball team's statistics, just search for "mlb" and you'll find a dashboard with the latest scores, news, and standings for your favorite team.
Here's a screenshot of the Live Search Mobile: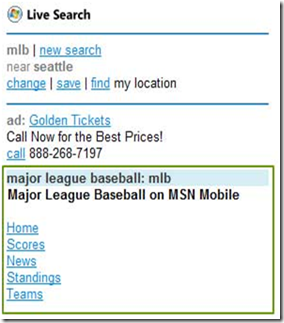 To experience these features, just visit the official Live Search site on your web-enabled mobile phone.
Did you enjoy this article?
Get FREE Updates
Get SEO, Social media and digital marketing updates straight to your inbox.