From now on Live Search will know which celebrities take your breath away and how often you search for them. According to Live Search Blog, MSN Live Search has launched the 'xRank Celebrity'. This service ranks all the celebrity related searches carried out on the Live Search Portal. The xRank Celebrity is currently operating in Beta Phase.
Some of the salient features of this really cool service are:
The ranking system of the xRank is entirely based on search volume.
A new category called 'Top Movers' keeps a track of celebrities that keep a headway in the ranks.
News article on the gossip rich celebrities.
A graph that keeps track of celebrities' popularity in an archival manner.
Links to images, video, biography, plus albums and movies.
Celebrity thumbnails with links to other xRank Pages.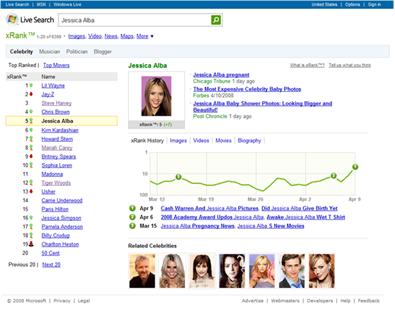 A celebrity's xRank is updated several times in a day, so as to keep the rankings and information fresh for the seekers.