Till a couple of days ago, if you would type in a query that would be available on Wikipedia, then the SERPs (Search Engine Result Pages) just came out with the exact match and the kink to the article. However, now according to the Live Search Blog, Wikipedia results on Live Search will now be accompanied with the first paragraph related to the search query. This would make things easier for the user as he would be able to pinpoint the exact result.
Well, I tried a search on the term 'Special Forces' and all the entires that were linked to Wikipedia contained the first paragraph for the desired query. It does prove to have a positive effect on the user, as I had the freedom of going to the exact Wikipedia article and did not have to navigate multiple times, just to find the right page. Good work Microsoft!
Here is the snapshot of the query that I ran: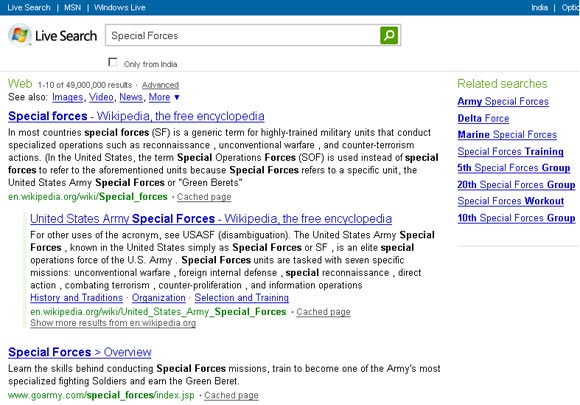 Did you enjoy this article?
Get FREE Updates
Get SEO, Social media and digital marketing updates straight to your inbox.