Recently, Live Search released two new features – Instant Answers and Active Answers. The primary aim of these features is to give instant and up-to-date information.
This feature has been released after keeping in mind the March Madness. With the help of this new feature users can get latest going ons in the NCAA Tournament such as Team Standings, Score highlights and other relevant information.
For example, just type in "Duke Blue Devils" and you'll get all the latest information about the tournament right on the search page.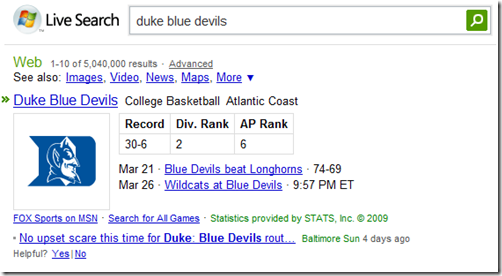 It is also quite similar to the previous feature. The only difference is that it retrieves up-to-the-minute information related to air travel from the web.
For example, if you type Alaska 328, then Live Search will provide detailed information about the particular flight, which includes terminal and gate information.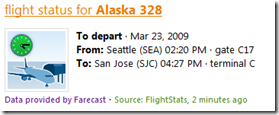 Finally, for any generic search, Live Search offers interactive boxes to users on the results page to refine their searches. The interface will prompt them to enter more specific information regarding flight schedules.