The Live Search team has come out with a lot of new features for the Webmaster Center. So if by any how, you are using this Microsoft service aside from Google Webmaster Central, then you would surely like these new additions. If not, then read on as you might like it and start using the Webmaster Center from now on.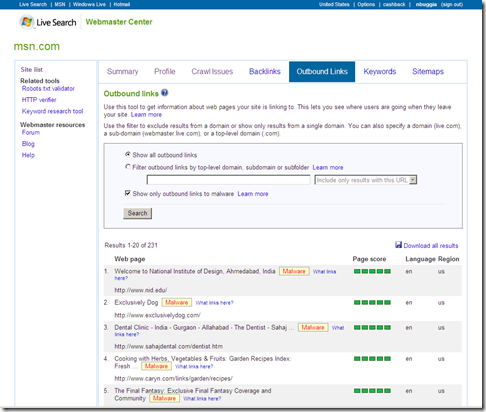 The first and perhaps the most important of them all is the Webmaster Center's malware detection procedure
The feature is helpful in detecting whether the webpages and the webpages the site links to, are infected with malwares or not. If any kind of malwares are detected, then it will immediately flag the links and will let you know in your next search results about the detection of malwares in the links. In addition to it, one can also download detailed reports of malware detection and the information about the ways to fix the problem.
The other two new features are:
Simplified authentication: You can use one authentication code per user account to authenticate multiple websites.
The outbound links tool: This tool enables you to filter those links which points to sites with malwares.