Google has come with an all together new makeover for its English and Polish Help Groups!
Google clarifies that the new looked forums would further make it easier for the users to look for answers to their queries, share information with each other and indulge in the participation of various discussions! Sounds cool.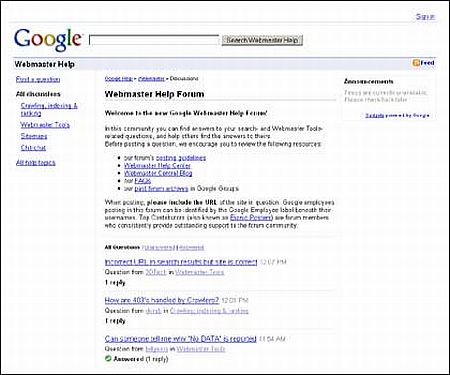 Here are some of the FAQs regarding this change:
Q: What will happen to the old English and Polish Help Groups?
A: While our old groups are now closed to new posts, they will still be available in read-only mode in case you want to reference any of your favorite posts from the good old days. Many of the most frequently-asked questions (and answers!) have already been transferred to our new Help Forums.
Q: If I was a member of the old group, will I automatically be a member of the new forum?
A: We won't be "transferring" membership from the old groups to the new, so even if you were a member of our Google Groups forum, you'll still need to join the new forum in order to participate. Nicknames and user profiles are also managed separately, so you're welcome to recreate your Google Groups profile in our new forum, or reinvent yourself.
Q: What about the Webmaster Help Groups in other languages?
A: They'll be moving to the new Help Forum format in 2009. Specific dates will be announced in each of the groups as they get closer to their moving date. – Answers are provided by Google
Google will be rolling out the new Webmaster Help Groups in a lot of other languages as well in the next year! It will gradually announce the days as it will get closer to the launch!