This session will define and discuss industry best practices in Pay Per Click Account Management as well as discuss geographical ad targeting, best use of ad spend per keyword, targeting competitive vs. niche keywords, and managing multiple clients while using multiple ad tracks (AdWords, YSM, AdCenter, etc.)
Moderator: Kevin Ryan, Vice President, Global Content Director, Search Engine Strategies and Search Engine Watch
Speakers: Joe Rozsa, President, SEO Columbus, Matt Naeger, Vice President/General Counsel, Impaqt, Christopher Upkes, Director of Agency Business Development, Adapt Technologies, Inc.,Craig Macdonald, VP of Marketing , Alliances and Product Management, SEMDirector
We need to concentrate more on meeting and managing client expectations all along. Joe Rozsa says that PPC is not a magic wand to lagging business goals. He asked the audience to try and invest time and capital to increase results for what's converting already. The moral of the story that if you can't still convert do you think its worthed to spend money on that.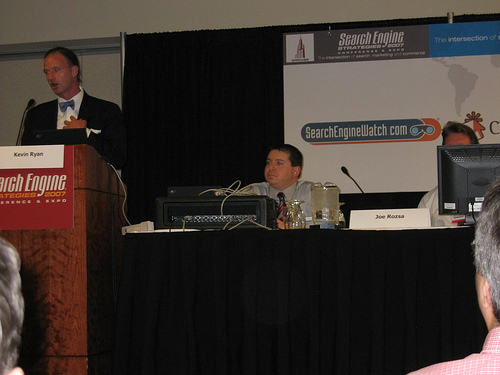 It was emphasized how important it was to know and work based on on your client's goals. You can keep these under your control and make give good advice to clients from experience, and then there can be positive transfer of knowledge for cases where there are other clients with similar goals and objectives.
It's also suggested that you counsel the clients that changes don't happen overnight. If you're working on a strategy such as a PPC, it's only the experience and testing time and time again that you get real knowledge. What needs to be understood is that the strategy needs to be test run before it's successful. Matt Naeger suggested you need to take success and failure as two sides of a coin, and with more and more success and experience your advice would become stronger as do your methods.