There a quite a few glossaries and dictionaries on the Internet but, here's the "MetaGlossary," that not only searches for 2,000,000 definitions, terms, phrases and acronyms from the web but also allows for users to submit definitions. Additionally, you can vote for the definitions, look up for a corresponding meaning in another language. Further, you can customize your experience of using this dictionary amongst other useful features.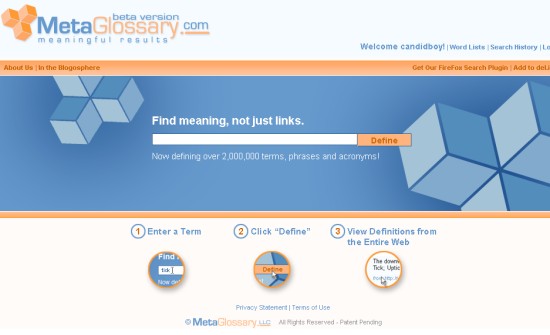 A search for the query "search engine," lists the result in the following format: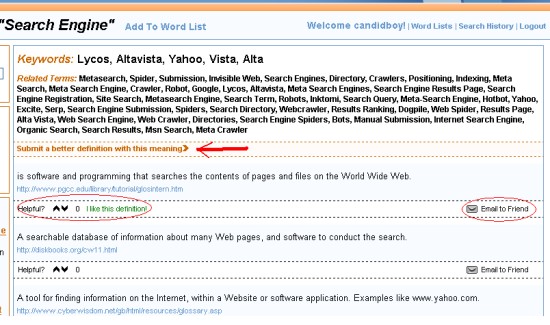 The search yields many definitions from across the web, it lists the KeyWords (A list of the most popular search engines), many Related Terms which such as spider, crawlers, meta search engine, Webcrawler etc. and knowing these terms might help the user to get a more comprehensive understanding about his/her search query and many related concepts.
As you browse through the definitions you may come across some definitions which are useful to you, while others aren't. Since, the glossary allows for user generated component as well you have a couple of choices in both the cases.
If you like one or several definitions you can vote for it by clicking on one of the just below the definitions. Alternatively you might want to share the definitions with a friend or a colleague you can do so by Emailing the definitions to them, the option's available on the right, just below the result. Similarly, if you don't like a particular definitions you can either give a thumbs-down to it or if you're an expert on the subject you might want to share your knowledge with others by submitting your own scholarly definition.
In order to actively participate in the user generated content of the glossary you'd need to sign-up and sign-in to either cast your vote or use other options as email etc. But, thankfully there isn't much information you need to submit to register.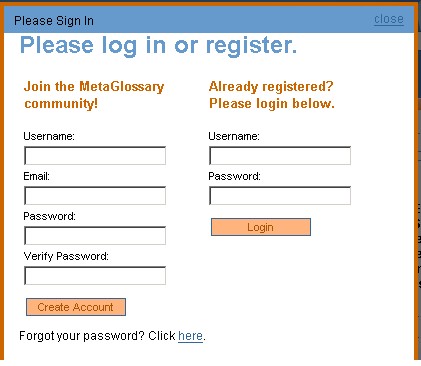 Two other features which can be very useful are a Google search box and word translator from babylon.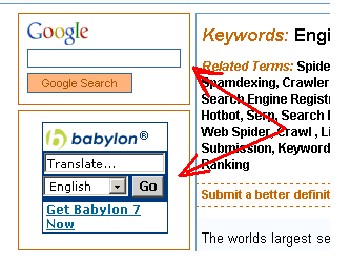 Through the babylon word translator you can translate your target word into many languages.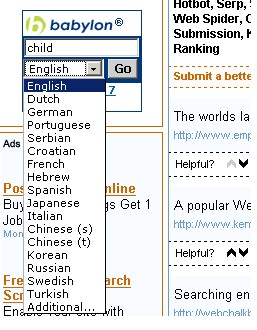 Here's how the word 'child' looks like when translated to Portuguese.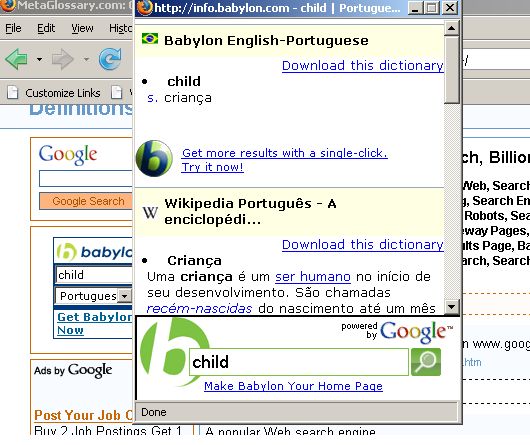 So much for the features, perhaps one of the most exciting aspect of MetaGlossary is customization. After you've used MetaGlossary for sometime you can categorize and store your previous queries with the 'Add To Word List' feature. You can view the list with the 'Word Lists' feature. Additionally, you can even see the summary of your search activity on the glossary with the 'Search History' feature.

All in all MetaGlossary can be very useful for locating definitions on a really big range of topics, the Related Terms and the Keywords feature allows you to sharpen your search. However, since the voting on the definitions is user generated and the popular opinion might not always be valid, hence, if you're in doubt you might want to check on the authenticity of definitions by following it's source. The Word Translator feature from babylon can be very useful as you get a multilingual translator at one place.
Sharing the definitions with others (through emails) is another useful feature. But, the most impressive part seems to be that of customization, wherein you can have your word lists systematically categorized for reference in the future, off course 'Search History' offers similar benefits. Although, Google's sponsored links appear along with the search results, they don't seem to hinder the search experience as they are clearly demarcated and sit quietly by themselves.
MetaGlossary holds the promise of being a good quick reference site, with many useful features (viz. Translation, etc.) brought together in one place.
Did you enjoy this article?
Get FREE Updates
Get SEO, Social media and digital marketing updates straight to your inbox.