Last week we had reported that, Microsoft had applied a new upgrade to its advertising platform adCenter.
Now, via the adCenter Blog, Microsoft has announced that it has updated its keyword research tool, with a fully redesigned user interface, that would assist advertisers in locating keywords and plan campaigns in adCenter.
According to the adCenter blog, "This new resource complements the Microsoft adCenter Add-in Beta for Excel by providing access to the same deep audience insights directly in the adCenter Research tab."
Getting Started:

Click the Research tab.
Enter a Keyword or Website URL from which you would like to start your keyword search.
Suggested Keywords:
"Our new suggested keywords results feature enhanced insights into average ad click-through-rate (CTR) and average cost-per-click (CPC) to help you select valuable keywords that can drive traffic and ROI to your business."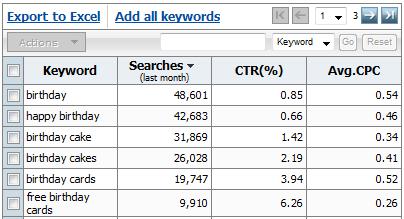 "The keywords that you add are set to broad match with the default bid. You can make further adjustments by going to the ad group page in Campaign Management."

Audience Insights:
"Ever wanted to know more about the search audience? The Audience Insights graphs show age, gender, geographic, and search volume statistics for keywords in your collection to help you better understand the searches and tailor your ad content and landing pages to them."
Over at Webmaster World, a thread has been posted in regards to the announced update. Here are Aa few excerpts from that thread:

"According to adCenter, it now has a new update to the keyword research tool aimed at finding keywords more efficiently and planning campaigns. it is designed to complement the Microsoft adCenter Add-inBeta for Excel by providing access to the deep audience insights directly in the adCenter Research tab."