Microsoft has updated its Live Search for Mobile with some really cool and slick features. According to the Live Search Blog Microsoft in its last update had incorporated a feature that enabled a user to directly send feedback to the Live Search engineering team. Based on the feedbacks received, MSN has rolled out these features.
Weather: Much of the user feedback stressed on their wish to see weather statistics in their mobile devices. So now, just by clicking the Weather icon, a user will be able to view current weather conditions and a four-day weather forecast.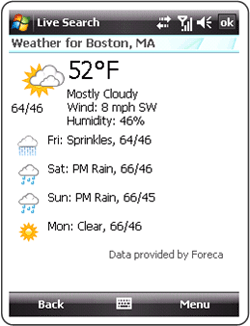 Web Search: All browsing capabilities such as search, news, images, and other services are now available to users on their mobile devices.
Traffic Updates: Streaming data from Live Search Maps, MSN will now provide users with almost real-time traffic information for cities likeDallas, Indianapolis, and Baltimore.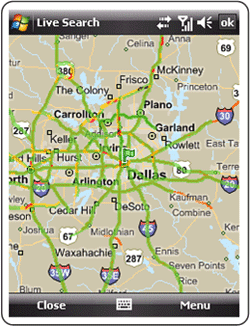 Bluetooth Headset Support: This hi-tech super-cool feature is available only on a few selected devices and would enable users to access the speech recognition feature directly through their wireless bluetooth headsets.
Community Collections: MSN has introduced community related content like the Virtual Earth Collections and Google KML , to help the user find what he is looking for.

As far as mobile users are concerned, these are really awesome features and would greatly enhance user accessibility. You can get m.live.com from your mobile device browser and try them out. I'm off to check these cool features. Enjoy!