Tafiti has been released as a Windows Live Quick Application via CodePlex. It was announced by the Windows Live Platform team. Tafiti, which means "do research" in Swahili, is a search visualization website by Microsoft which brings a new user experience to researching in the field of searching and storing results. It was originally developed to demonstrate Silverlight and the Windows Live Search APIs.
The latest change in the Tafiti Search Visualization source code allows any developer to download, change and resell the code.
The new code base has a lot of great technical bits such as:
Reusable Silverlight Controls
Code which wraps the Live Search SOAP API
Windows Live ID Web Authentication implementation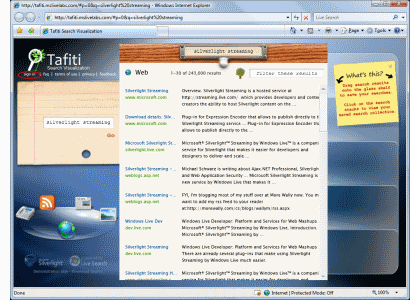 To know more about the new source code, click here
Did you enjoy this article?
Get FREE Updates
Get SEO, Social media and digital marketing updates straight to your inbox.