Microsoft has relaunched Live Search News. It is speculated that this latest release is a direct answer to the Google News. The look of the Live Search News is quite pleasing, especially the layout and the design.
According to news.com, a noticeable orange bar keeps scrolling on the website when a big news is happening or when there is a breaking news. One of the most appealing features of Live Search News is the 'local-news sidebar' which appears on the right side of the page. It automatically detects the IP address of the user and then pulls up news relevant to the IP area. This provides sort of a personal touch given by Microsoft, making the user feel 'special'.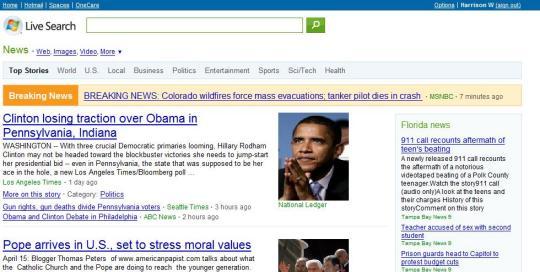 The main difference between the Google News and the Live Search News is the newly added 'Top News Videos' available in Live Search News. These are highly relevant videos and run on the same Microsoft preview technology, that is used in the Live Video Search.
As of now, Google News has a dedicated audience base. To compete with this, Microsoft may need to enhance its Live Search News service and also may have to come with some innovative solutions to attract masses to its new service.